#1. Location
The location should be the first factor to consider when looking for vein clinics. There's no point in finding the world's best vein clinic if it's several hours from your home or place of work. Most vein treatments conclude within an hour and involve multiple sessions. That means you have to visit the vein clinic repeatedly, but your sessions can generally fit within your lunch break. If you find a vein clinic within 30 minutes from your place, you don't have to take time off work.
VIP Medical Group manages some of the most accessible vein clinics in New Jersey. You can find their vein clinics in Clifton, Paramus, and Woodland Park, so they're accessible to patients across the state. The Clifton vein clinic is just past the Ford dealership on route 46-E; the Paramus vein clinic is near the Garden State Plaza at 140 NJ-17 #103; the Woodland Park vein clinic is at 1167 McBride Ave Suite 2. You may schedule an appointment online.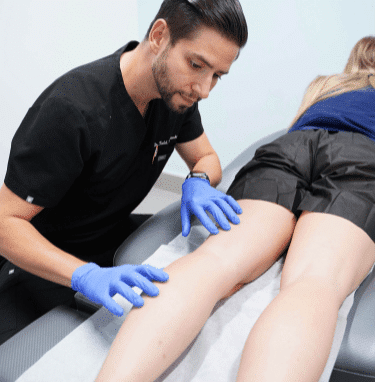 #2. Patient Testimonials
Patient testimonials allow you to hear from your peers. All patients can leave honest and unbiased reviews for their vein clinics and vein doctors on Google, Facebook, or Real Self. If a vein treatment fails or results in complications, the patient is likely to highlight it in the review. As such, reading patient testimonials gives you a good understanding of the vein clinic's track record. The vein clinics in New Jersey have unanimous 5-star ratings and reviews from all patients, indicating a perfect track record.
#3. IAC Accreditation
The Intersocietal Accreditation Commission is an organization that certifies medical centers that meet their rigorous and strict guidelines. IAC accreditation essentially guarantees that the vein clinic is equipped with the latest technologies and follows the strictest set of safety guidelines. However, IAC accreditation is completely voluntary, so only a handful of vein clinics subject themselves to the test, and fewer still receive accreditation.
VIP Medical Group's vein clinics in New Jersey are state-of-the-art and IAC-accredited centers of excellence. They're equipped with the latest vein technologies, including ClariVein, VNUS, and ClosureFAST. Furthermore, as IAC-accredited vein clinics, you can be guaranteed that they follow the strictest safety guidelines and standards. They also have extremely friendly and compassionate vein doctors and staff that ensure you have a comfortable experience.
#4. Vein Doctors
You must look for board-certified or fellowship-trained vein doctors with excellent credentials. Vein doctors come from all fields of medicine, including anesthesiology, cardiology, dermatology, etc. The barrier to entry is pretty low, so a lot of fairly inexperienced vein doctors can provide vein treatments. For this reason, lots of medical centers focus on cosmetic treatments for spider veins and varicose veins rather than addressing the root cause, which leads to a high risk of recurrence. You must look for vein doctors with the ideal credentials.
Board certification isn't necessary for vein doctors, but it's an objective guarantee of skills and quality. Vein doctors can only get board-certified by the American Board of Venous and Lymphatic Medicine after completing challenging residency programs, fellowships, and other vein-related tests. Vein doctors must also stay abreast of the latest developments in vein care to retain board certification. As such, board-certified vein doctors are some of the best vein specialists out there.
The vein clinics in New Jersey are led by Dr. Sareh Rajaee, one of the country's foremost vein experts. She's board-certified by ABVLM and has specialized training in vascular imaging and the latest minimally invasive spider vein and varicose vein treatments. She completed her medical doctorate from the Alpert Medical School at Brown University and her Master's in Public Health from the Harvard School of Public Health. She also completed an Integrated Vascular Surgery Residency at Yale New Haven Hospital.
Besides her excellent credentials, Dr. Rajaee is immensely talented and compassionate. She believes your vein treatment experience should be painless and comfortable, and she goes out of her way to ensure that. She walks you through every step of the vein treatment process to ensure complete mental clarity, which, in turn, helps you feel comfortable.
#5. Comprehensive Vein Care
You must look for vein clinics specializing in comprehensive vein treatments. Most medical centers and vein clinics provide cosmetic solutions for spider veins and varicose veins. They may remove spider veins, but they don't diagnose the underlying chronic venous insufficiency, leading to a high risk of recurrence. Treating spider veins without diagnosing and treating vein disease is like painting over a stained wall instead of fixing the leaky pipes underneath. You must find vein clinics that do both — treat the underlying issues and alleviate the cosmetic problems.
The vein clinics in New Jersey provide comprehensive, personalized, and minimally invasive vein treatments. The vein doctor examines your leg veins, reviews your medical history, discusses your symptoms, and administers vascular imaging tests to diagnose chronic venous insufficiency. If you have vein disease, the vein doctor performs radiofrequency ablation, endovenous laser ablation, or venaseal. These procedures destroy the diseased saphenous vein responsible for your vein problems, rerouting the accumulated blood into healthier veins.
If you don't have vein disease, or after the primary vein treatment, the vein doctor performs sclerotherapy or ambulatory phlebectomy. Sclerotherapy involves injecting a sclerosant solution into spider veins to fuse their walls shut, turning them into scar tissues eventually absorbed by the body. Ambulatory phlebectomy involves the physical extraction of superficial varicose veins through small incisions on the skin's surface, providing immediate relief from varicose veins.
The vein clinics in New Jersey focus on minimally invasive outpatient procedures. The procedure concludes within an hour with no downtime, allowing you to resume your daily activities immediately.