Qualities of the Best Vein Center Near Paramus

#1. Convenient Location in Paramus
When looking for the best vein center in or around Paramus, the first factor to consider is its location. The location is certainly not the most important factor, but it can be the first factor. You can narrow down an acceptable radius to focus on vein centers you can easily visit, even with a packed schedule. Ideally, you shouldn't have to drive several hours to visit a vein center for your treatment. Google can certainly help — when you search for vein centers near your location, Google provides a list of accessible clinics arranged according to their distance from your location.
Vein Treatment Clinic has the most accessible at 140 NJ-17 #103, Paramus, just off the Garden State Parkway and a short drive from the Garden State Plaza. You can schedule an appointment online or call us at +1 201-485-5020.
#2. Perfect Patient Satisfaction Rate
You must focus on vein centers with a perfect track record, determined through their ratings and reviews. Vein treatments are fairly simple and straightforward, so you must focus on vein centers with 5-star ratings and reviews from all patients. You can even go through their reviews to gauge their level of satisfaction with the vein care experience. You'll be able to gauge the reviews from the vein centers' Google pages.
Vein Treatment Clinic fits this requirement as well. Our state-of-the-art vein center in Paramus has unanimous 5-star ratings and reviews because of our exceptional standards of patient care. One of our recent patients said, "Great staff! Everyone is so friendly and professional. The doctors were amazing! Every step of the way was explained, and it was a pleasure to be a patient. I highly recommend the entire staff! They have improved my life."
#3. Exceptional Vein Doctors
You must look for vein centers with exceptional vein doctors at the helm. You must look for highly-skilled vein doctors who have performed hundreds of minimally invasive vein treatments. This is essential because skilled and experienced vein doctors look for the root cause of your vein problems instead of treating the visible symptoms — something that inexperienced vein doctors often do. You can gauge the vein doctors' general reputation, skills, and experience from their "About" page on their websites.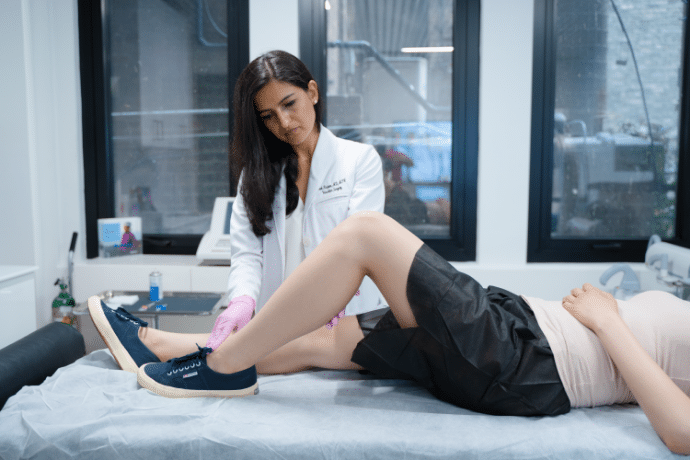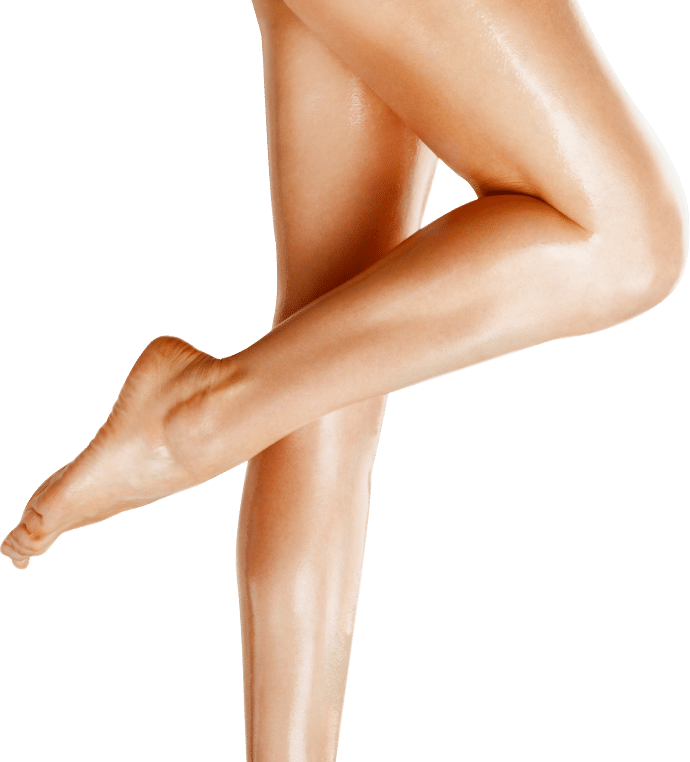 BOOK AN APPOINTMENT
Do you have any symptoms? Consult now with one of the Best Vein Specialist in New Jersey
Your information is encrypted and secure. By registering you confirm that you accept Terms and Conditions and Privacy Policy
Vein Treatment Clinic's Paramus office is led by Dr. Todd Kobrinski, one of the most talented vein specialists in New Jersey. He's a reputable vascular surgeon with specialized training in minimally invasive treatments, such as sclerotherapy, radiofrequency ablation, etc. He also specializes in cardiovascular disease, which gives him an additional understanding of blood circulation in leg veins. Dr. Kobrinski also has a reputation for being incredibly charming, friendly, and compassionate, and he always ensures his patients are physically and emotionally comfortable.
#4. State-of-the-Art Infrastructure
Vein Treatment Clinic is a state-of-the-art medical center in Paramus, equipped with the latest technologies necessary to provide minimally invasive treatments. We use ClariVein, ClosureFAST, VNUS, and other cutting-edge technologies to treat vein disease without major side effects, complications, or downtime. Your overall comfort and convenience are of utmost importance to us.
#5. Minimally Invasive Treatments
In the recent past, vein doctors often treated varicose veins and venous insufficiency with surgical procedures, like vein ligation, venous bypass surgery, and vein stripping. However, surgery is now considered outdated and unnecessary because minimally invasive procedures are faster, safer, more effective, and more convenient. They generally conclude within an hour with no downtime, making them the perfect "lunchtime" procedures. You should only focus on vein centers that provide minimally invasive vein treatments — and no surgeries.
Vein Treatment Clinic only provides minimally invasive vein treatments, including radiofrequency ablation, endovenous laser ablation, VenaSeal, and sclerotherapy. Our vein doctors carefully assess the root cause of your vein problems using the latest vascular imaging tests, following which they curate the ideal treatment plans. Our treatment plans are based on your specific medical history, diagnosis, cosmetic goals, and insurance coverage options. As such, the vein treatment plan perfectly addresses your unique goals and concerns.
If you have superficial varicose veins and spider veins, we provide cosmetic treatments like ambulatory phlebectomy and sclerotherapy to improve your legs' appearance. However, if your superficial vein troubles are caused by underlying vein disease, we recommend radiofrequency ablation, endovenous laser ablation, and VenaSeal. During these procedures, thermal energy, laser energy, or medical adhesives are used to close the diseased saphenous vein responsible for your problems and reroute the accumulated blood to healthier leg veins.
#6. Free Insurance Verification
The best vein center in Paramus should also provide free insurance verification. They should also accept all major insurance plans, including Medicare. Minimally invasive vein treatments are generally covered by most insurance plans; however, there's a lot that vein centers can do to minimize your financial burden.
Vein Treatment Clinic provides free insurance verification even before your appointment. You can send your insurance details to our team before the appointment. They'll finalize the details and provide a detailed breakdown of the costs of your treatment with and without insurance during the appointment. Our vein doctors also actively consider your insurance coverage options when recommending vein treatments.
Once you've found the best vein center near your location, there's only one thing left to do — schedule a consultation online.
NJ Vein Doctors

Meet our team of New Jersey Vein Treatment Specialists
Vein Treatments are covered by most major medical insurances, including Medicare. Call us today to verify your insurance for FREE >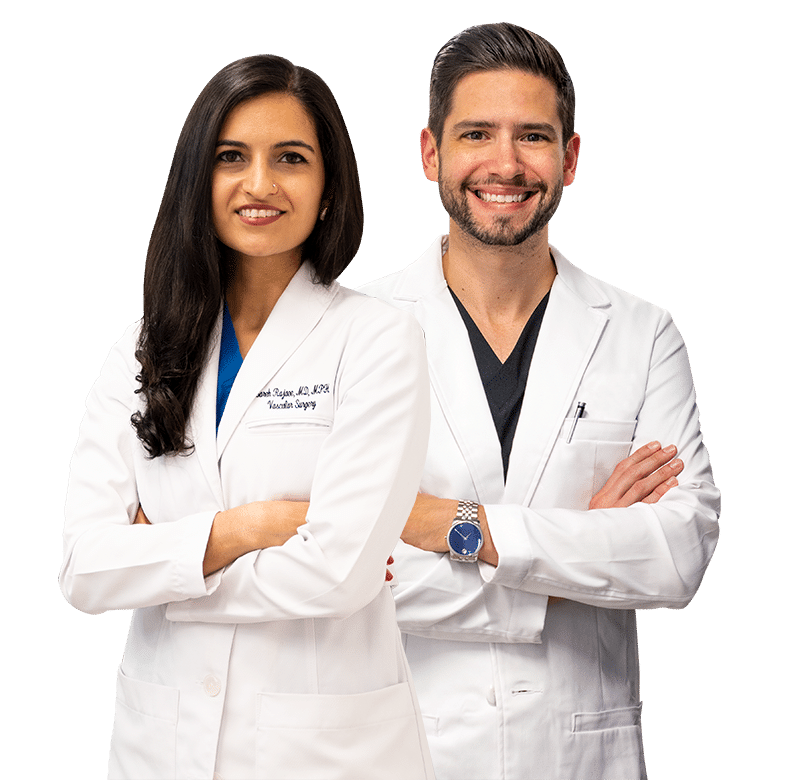 Meet our Team of Top Vein Specialists in New Jersey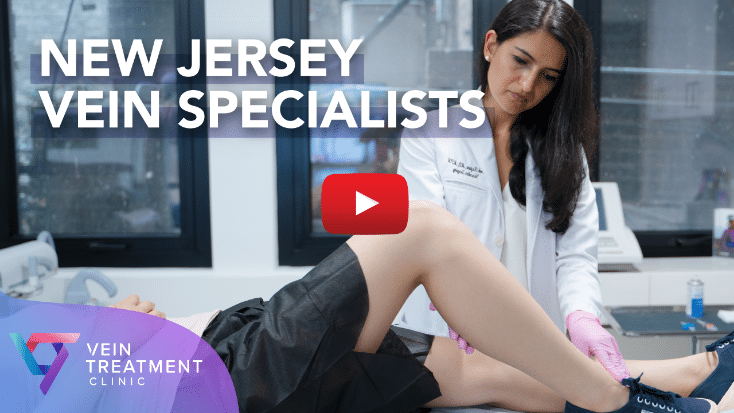 Slide One