Introducing the top-rated vein clinic in Clifton, NJ
The spider vein and varicose vein clinic in Clifton is currently the top-rated vein center nearby in Clifton. If you're in Passaic County, you can probably drive over to the vein clinic within 30 minutes. Patients from other parts of New Jersey can also access this vein clinic with relative ease or access the vein clinic's other branches in Paramus and Woodland Park. This vein clinic is considered the top-rated medical center in the area because of its impeccable reputation and 5-star patient testimonials.
The vein clinic in Clifton is located at 1117 US-46 Suite 205, just off NJ-3 and the garden state parkway. You'll find the vein clinic a short drive from the Ford dealership on route 46-E. The vein clinic has plenty of parking spaces, and it's open from 9AM to 5PM every weekday. They only provide minimally invasive vein treatments that usually conclude in 30 to 60 minutes, so you can probably squeeze the treatment into your lunch break, so you don't need social or professional downtime.
Below, we provide a selection of the vein clinic's patient testimonials and determine if it truly lives up to its stellar reputation.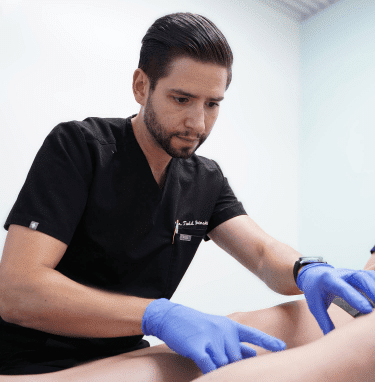 A selection of the vein clinic's patient testimonials
"Professional staff, and a very knowledgeable, kind, and gentle doctor. Dr. Rajaee made me feel so comfortable right from the start. I look forward to finishing my treatment… the results are great!"
"The vein doctor makes you a priority when treating you. I would definitely recommend anyone looking for vein treatments to see their office and Dr. Kobrinski, you won't be disappointed."
"This is a great, professional medical facility. Dr. Rajaee is an outstanding doctor."
"Dr. Smith and his staff are wonderful! He's so caring and explains everything in detail. He takes care of you, your concerns and questions, and leaves you feeling great!"
"Staff is courteous, prepared, and professional! Dr. Rajaee and staff did a great job!"
At the time of writing, the spider vein and varicose vein clinic in Clifton has an average of 5-star ratings. They do have one negative rating, but the vein clinic has responded to it and clarified that the patient's record isn't present in their system. As such, it's likely that the patient left a review for the wrong vein clinic or that it's spam. Regardless, all of the vein clinic's other amazing reviews more than make up for the one suspicious review.
Does the vein clinic in Clifton live up to its stellar reputation?
The spider vein and varicose vein clinic in Clifton certainly has an amazing reputation. In order to maintain 5-star ratings, vein clinics must maintain a perfect track record and ensure all patients are treated with the utmost care and respect. A single misstep can knock the vein clinic off that coveted spot.
But does the vein clinic's internal processes and capabilities truly live up to its stellar reputation? To answer that question, we'll assess the vein clinic based on three essential factors — the quality of their vein doctors, their diagnosis and vein treatment process, and whether they provide insurance verification for patients.
Vein Doctor
The vein doctor is the center of a vein clinic — you must find vein clinics led by a talented team of vein doctors. The vein clinic in Clifton is led by Dr. Sareh Rajaee, one of the leading experts in the field of phlebology. Dr. Rajaee has a stellar reputation within phlebology because of his incredible charisma and skills with minimally invasive vein treatments. Her patients also clearly love her, judging by their reviews and testimonials.
The following is a summary of Dr. Rajaee's star-quality credentials:
Double majors in Biomedical Engineering and German from the University of Rhode Island
Medical doctorate from the Alpert Medical School at Brown University
Master's in Public Health at the Harvard School of Public Health
Vascular Surgery Residency at Yale New Haven Hospital
Specialized training in open and endovascular procedures for deep and superficial vein disease
Vein Treatments
Modern, state-of-the-art vein clinics should only provide minimally invasive spider vein and varicose vein treatments. Furthermore, they should only provide vein treatments after performing a thorough ultrasound diagnosis to determine if they're caused by chronic venous insufficiency, the root cause of most vein problems.
The spider vein and varicose vein clinic in Clifton certainly meets those standards. They have a streamlined and comprehensive vein treatment process — they personalize all vein treatments according to the patient's unique goals and concerns. Furthermore, they offer the latest minimally invasive vein treatments, including radiofrequency ablation, endovenous laser ablation, venaseal, and sclerotherapy.
The following is an overview of the vein clinic's diagnosis and treatment process:
The vein doctor examines your leg veins and performs duplex ultrasound scans to determine if you have chronic venous insufficiency.
The vein doctor highlights your vein treatment options and recommends the ideal minimally invasive vein treatment plan for you.
The vein doctor provides minimally invasive vein treatments for chronic venous insufficiency.
The vein doctor performs sclerotherapy or ambulatory phlebectomy to remove the spider veins and superficial varicose veins.
The vein doctor discusses your post-treatment recovery guidelines, following which you can resume your daily activities.
Insurance Verification
The spider vein and varicose vein clinic in Clifton accepts all major insurance plans, including Medicare. They also provide free insurance verification before scheduling an appointment. You can enter your personal details on their website to be contacted by their insurance concierge. They'll handle your insurance details, work out the terms and conditions of your insurance plan, and provide an overview of your insurance coverage options. This ensures complete transparency with billing.