Where Can I Find a Vein Center Near Newark?

You can find the best vein center near Newark in Clifton, NJ.
Vein Treatment Clinic is a state-of-the-art vein center near Newark, located at 1117 US-46 Suite 205, Clifton, less than 15 minutes from Newark via NJ-21 N and NJ-3 W or the Garden State Pkwy. You'll find our vein center right off NJ -3, a few minutes past the Ford dealership on route 46-E. Our vein center is incredibly accessible to patients from Newark, Hackensack, and various other neighboring towns because of its proximity to the garden state parkway.
Now that you know how to reach the best vein center near Newark, please continue reading to learn more about our vein treatment center. This article provides a detailed review of our vein clinic so you know exactly what you can expect.
What makes our vein treatment center in Clifton special?
You might be wondering what makes our vein treatment center in Clifton special — why is it different from other vein centers? Well, for starters, our vein treatment clinic has 5-star ratings and reviews from all patients, evidence of its impeccable track record. Our perfect rating shows that our patients are happy with the treatment and don't experience any complications or other hiccups.
There are two primary reasons for our impeccable track record — our board-certified vein doctor and our comprehensive varicose vein treatment plan. We'll discuss our vein treatment plan shortly, but first, we'd like to introduce Dr. Sareh Rajaee, the board-certified vascular surgeon at VTC Clifton.
Dr. Sareh Rajaee is one of the country's finest and most talented vein doctors, specializing in venous medicine and the latest minimally invasive varicose vein treatments. She has an exceptional educational background, having trained at numerous Ivy League medical institutions, including the Harvard School of Public Health and the Yale New Haven Hospital. Her years of training have established her as one of the leaders in vein treatment.
But Dr. Rajaee's true talents can't be quantified entirely — her compassionate attitude and warm personality play as big a role as her star-studded educational background. She thoroughly believes that the vein treatment process should be emotionally and physically comfortable for her patients. And she goes out of her way to ensure you have a painless and comfortable journey. She even stays in touch with her patients through text messages after the treatment, ensuring you don't have any problems.
Dr. Rajaee believes the doctor-patient relationship doesn't end once you leave the vein clinic; it's an ongoing relationship focused on your long-term vascular wellness.
Our exceptional and flawless varicose vein treatment plan.
Step 1: Investigate the varicose veins and spider veins.
In most cases, varicose veins and spider veins are caused by underlying chronic venous insufficiency. Healthy leg veins contain valves that act as one-way doors, i.e., they ensure one-way blood circulation to the heart, defying gravitational force. When your vein valves collapse, blood flows backward due to gravity, eventually pooling in your leg veins. The continued blood accumulation in your leg veins leads to vascular dilation, which, in turn, leads to spider veins and varicose veins.
Medical spas and inexperienced vein doctors treat spider veins without understanding the root cause, which leads to a recurrence down the line. However, our vein doctors always investigate the root cause of your varicose veins and spider veins. Dr. Rajaee carefully examines your leg veins and administers an ultrasound diagnosis to visualize the blood flow in your blood vessels. Ineffective or improper circulation in your blood vessels reveals the presence of vein disease.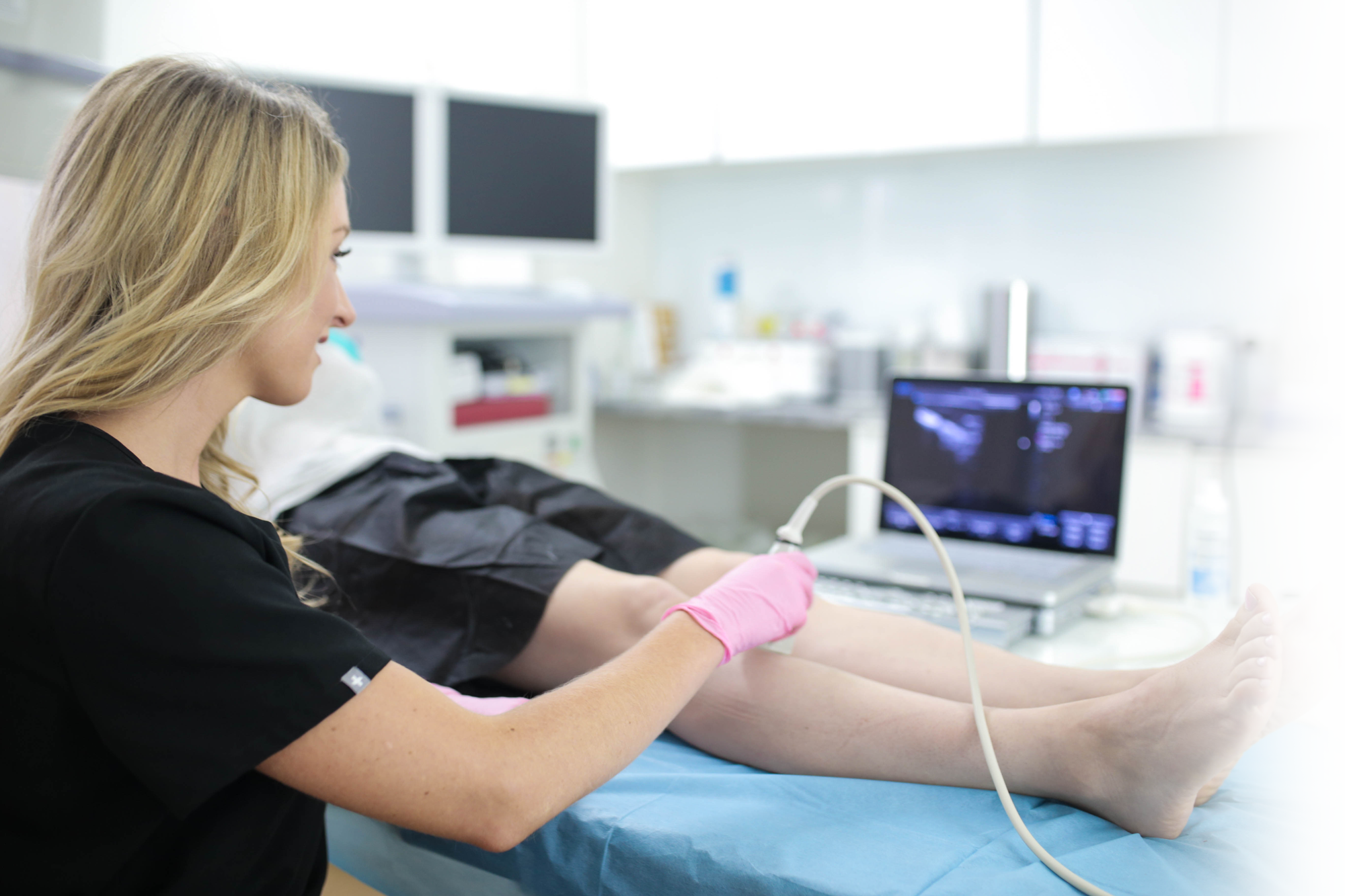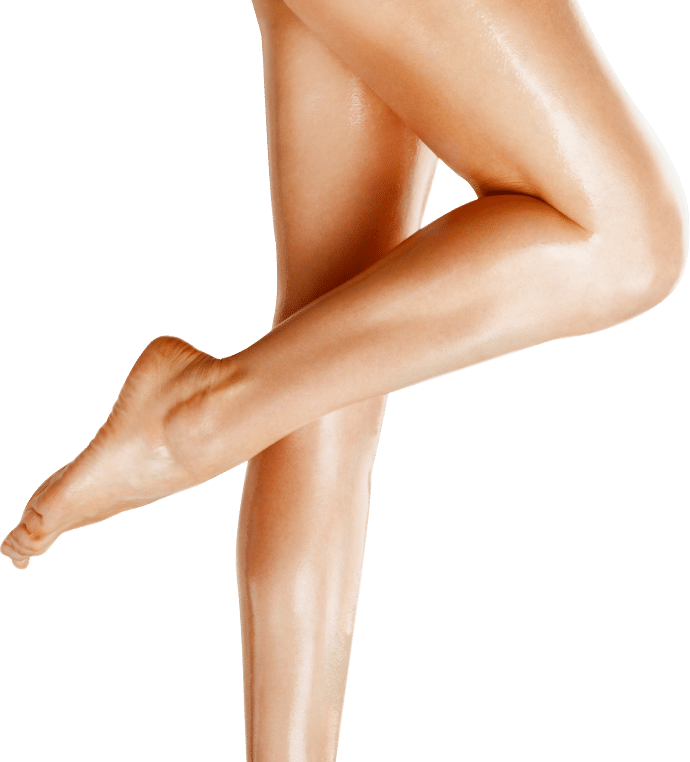 BOOK AN APPOINTMENT
Do you have any symptoms? Consult now with one of the Best Vein Specialist in New Jersey
Your information is encrypted and secure. By registering you confirm that you accept Terms and Conditions and Privacy Policy
Step 2: Curate a personalized vein treatment plan.
​Our vein doctors curate a personalized vein treatment plan based on the following factors — your diagnosis, cosmetic goals, medical history, lifestyle, and insurance plans. Instead of following a cookie-cutter vein treatment template, they personalize the treatment to address your unique needs — your comfort is of utmost importance. The vein doctor also reviews your insurance plans to recommend vein treatments with optimal coverage. We give you all the information, allowing you to make an informed choice.
Step 3: Perform the minimally invasive vein treatment.
The minimally invasive vein treatment starts with radiofrequency ablation, endovenous laser ablation, or VenaSeal. During these procedures, the vein doctor delivers thermal energy, laser energy, or medical adhesives into the diseased saphenous vein under ultrasound guidance. The ablation treatments collapse the diseased vein, and VenaSeal fuses the vein's walls. In both cases, the accumulated blood flows to healthier veins, and the diseased vein eventually gets absorbed by the body. The minimally invasive vein treatment is performed under local anesthesia, so there's no pain or discomfort.
Step 4: Remove the visible spider veins and varicose veins.
After the primary vein treatment, we remove the visible spider veins and superficial varicose veins using sclerotherapy. The vein doctor injects a medicine called sclerosant into the visible blood vessels on your legs. The spider veins turn into scar tissues that eventually get absorbed by the body and fade away from the skin. Furthermore, since the underlying vein disease has been addressed, there's a negligible risk of the spider veins returning.
You can schedule an appointment at our vein treatment center in Clifton right now!
​If you have spider veins, varicose veins, or other symptoms of underlying vein disease, you must consult a vein doctor immediately. For more information, please schedule an appointment online or call us at +1 862-899-8994.
NJ Vein Doctors

Meet our team of New Jersey Vein Treatment Specialists
Vein Treatments are covered by most major medical insurances, including Medicare. Call us today to verify your insurance for FREE >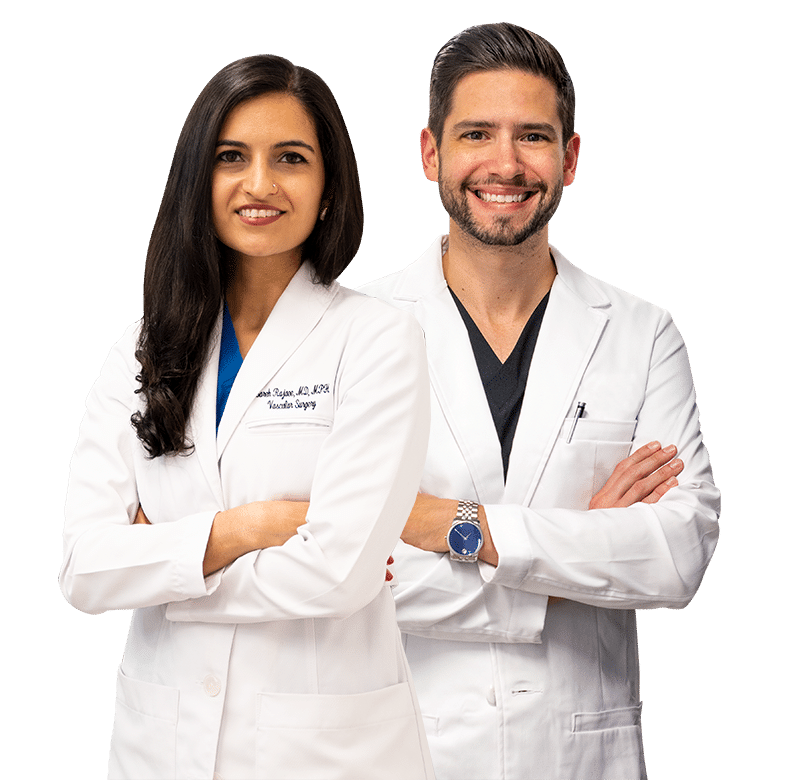 Meet our Team of Top Vein Specialists in New Jersey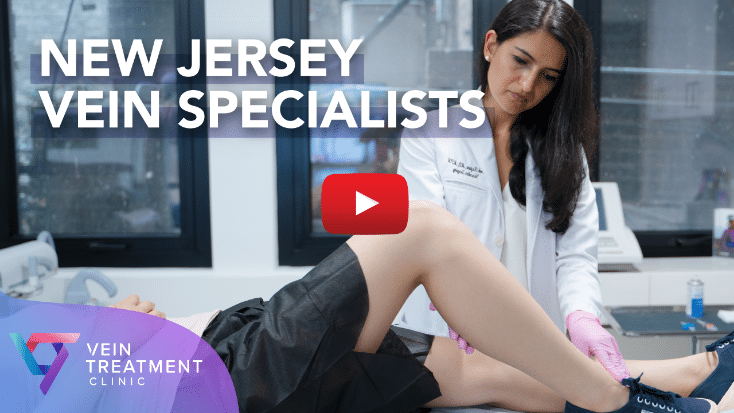 Slide One