1. Look for a Board Certified Vein Doctor in NJ
Board certification is not required to administer vein treatment in New Jersey. Doctors with this distinction have completed additional studies, training, and assessments to achieve a superior level of expertise. Some vein centers have board certified doctors, but they aren't certified in vein medicine. For the best possible care, look for minimally invasive, board certified vein doctors. These specialists are uniquely qualified to treat veins and vein diseases without unnecessary surgery. Book an appointment with our Harvard-trained vein doctors today!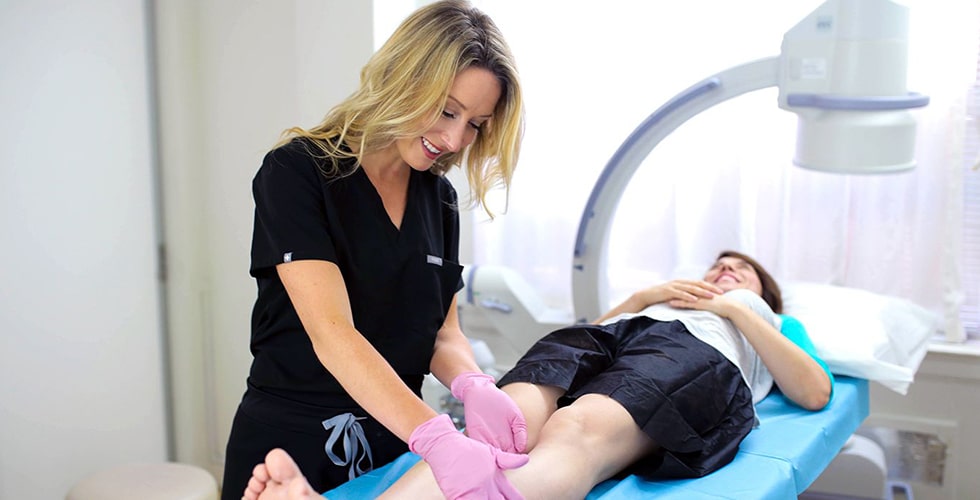 2. See If They're Minimally Invasive or Vascular Surgeons
Minimally invasive vein doctors are trained in newer technologies that eliminate unnecessary surgery. These include sclerotherapy, radiofrequency ablation, endovenous laser ablation, mechanochemical ablation, and vein adhesives. Look for these brand names of less invasive techniques in your vein doctor's repertoire: VNUS Closure, Asclera, ClariVein, VenaSeal, and VenaCure.
Vascular surgery is rarely necessary for varicose veins, unless you have blood clots or severely tortuous veins that aren't amenable to endovenous treatment. If you choose vascular surgeons, you're more likely to be referred to vascular surgery when a less invasive tactic would suffice. With today's minimally invasive vein treatment options, vascular surgeons treat arterial issues more often than veins.
3. Assess the Vein Specialist's Bedside Manner First
Before agreeing to treatment, see how the vein specialist behaves in your consultation. Do they rush out the door? Do they answer your questions? Do they explain the treatment and why they recommend it? Look for a vein specialist who is more concerned with your comfort and wellbeing than squeezing more patients into their schedule.
Our caring team takes time to get to know each patient and allay any concerns before treatment. We're easy to reach if you have any questions, and we aren't satisfied until you are thrilled with your results! We frequently combine methods if needed, for an impeccable outcome. We follow up with each of our patients to make sure they're happy with the outcome.
4. Ask How Long They've Been Performing Vein Treatments
Some vascular surgeons completed medical school so long ago that they aren't up to date on the latest techniques. Conversely, some vein doctors are so new to the practice that they haven't logged enough hours performing treatments. Our award-winning NJ vein centers have 25+ years of combined experience, and we draw on our colleagues' expertise to solve complicated cases. When you see one of our Ivy-League-trained experts, you get the combined wisdom of all of our vein doctors!
5. See If They Treat Varicose Veins and Spider Veins
It's important to determine whether they treat both varicose veins and spider veins. Some vein centers only treat cosmetic issues, like facial spider veins, with surface treatments. But varicose veins and spider veins in the legs require a more in-depth approach. These defective blood vessels usually stem from broken valves in deeper veins, a condition called Chronic Venous Insufficiency. Look for a vein doctor who treats the appearance of veins, as well as the underlying cause or disease. Otherwise, vein damage and unpleasant symptoms will continue to proliferate.
6. Ask If They Recommend Vascular Surgery
A vein doctor who trained in the last 30 years should know that vascular surgery is no longer a first line of treatment for spider veins and varicose veins. Minimally invasive methods are safer, quicker, gentler, and more affordable for most people. Not to mention, they're often more effective. If the vein doctor recommends vascular surgery before pursuing other options, they might not be trained in the latest methods. In some cases, surgery is required. But vein doctors should always investigate minimally invasive options first.
7. Ask How Long the Recovery Time Will Be
If the vein specialist predicts a lengthy recovery time, ask them why. Vein stripping surgery can take months or longer to recover from. But minimally invasive vein treatments have no downtime whatsoever. Since the vein is treated inside the body, rather than being surgically extracted, patients can walk right after the procedure and even head right back to work. Recovery shouldn't take long if your vein doctor uses cutting-edge techniques. 
8. Choose an Accredited New Jersey Vein Clinic
The vein doctor's credentials are important, but so are the vein center's. Look for a vein center that is accredited by the Intersocietal Accreditation Commission. Very few vein centers in New Jersey achieve this distinction, and it's the gold standard of vein care. The process is optional and arduous, so many vein centers don't attempt it, and only the best get the stamp of approval.
9. Ask If They Accept Your Insurance Coverage
Varicose vein treatment can be covered partially or completely by insurance. But some vein centers don't accept insurance, especially if they only perform cosmetic procedures. Choose a medical vein center that accepts insurance and that is transparent about your fees. Our insurance specialists verify your insurance coverage before the procedure, so you know what you're responsible for up front. Most of our patients have no out-of-pocket expenses.
10. See How Soon You Can Book Diagnosis and Treatment
If the vein center can't fit you in for a year, that's a red flag. They are either understaffed or they are overfilling their schedule to maximize profits. Good vein doctors know how important it is to deliver a diagnosis and treatment promptly, so they build enough time into each day. The best vein specialists also team up with other vein experts and open additional locations, so patients can be seen more quickly.
How do you find a good vein specialist? Look no further than our unparalleled vein doctors. Our NJ vein centers were named Centers of Excellence and Patient's Choice medical centers for exceptional care. We have a team of renowned vein doctors who offer treatment in four convenient locations: Clifton, Paramus, Woodbridge, and Woodland Park. Visit any of our state-of-the-art vein centers for a level of care you won't find anywhere else!