Where Are the Best American Vein and Vascular Centers?
Are you searching for "the best varicose vein center near me?" The top vein and vascular centers in America are accredited by the Intersocietal Accreditation Commission and run by board certified vein doctors. Our Harvard-trained vein specialists work from award-winning, accredited centers throughout the country. We have six locations in New Jersey, including Paramus, Clifton, Scotch Plains, Woodbridge, West Orange, and Woodland Park. Book an appointment at any of our New Jersey locations or read on to learn where else you can find us.
What Are the Features of the Top American Vein Institutes?
It's important to know that many centers that treat veins aren't run by vein doctors, and they lack the technology to treat varicose veins. Small, facial spider veins require different tactics than large varicose veins in the leg. Cosmetic and dermatological centers only treat those superficial veins. Varicosities often stem from valve failure in deeper veins. If you don't treat the cause, symptoms and vein damage will continue to develop.
Choose a vein center with ultrasound-guided procedures and minimally invasive varicose vein treatments to ensure that you get the best care. Most varicose veins don't require surgery, so don't agree to a surgical procedure without consulting our interventional vein doctors. Here are some features of the best centers.
Accreditation by the IAC
Board Certified vein doctors
Certification by the American Board of Venous and Lymphatic Medicine
Certification by the American Board of Medical Specialties in a vascular field
Minimally invasive vein treatments
Ultrasound-guided procedures
Vein mapping technology
Preference for surgical alternatives
In-network with insurance carriers
Proven track record of success
Doctors with degrees plus supplemental training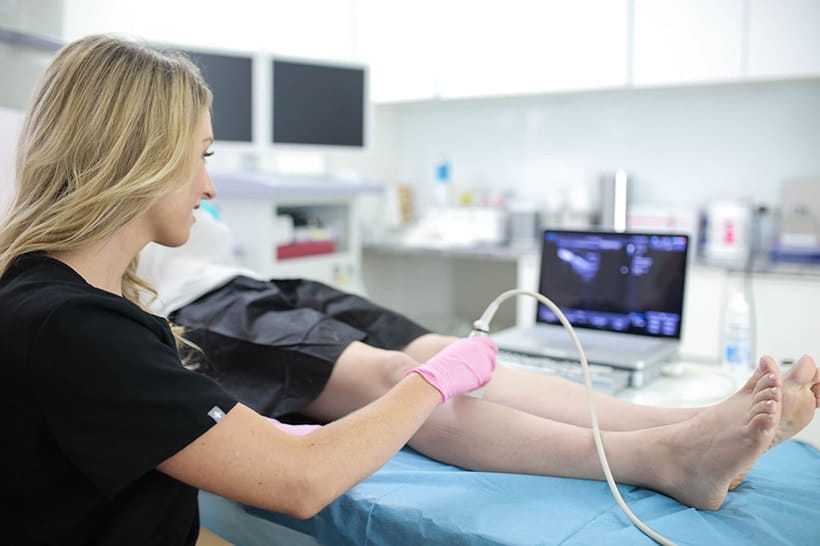 Does It Matter Where I Get Sclerotherapy in DC, NJ, or NY?
Sclerotherapy and laser vein treatments differ between centers. Sclerosants and laser energy can be applied by sight for certain superficial spider veins. This is the only type of sclerotherapy and laser vein treatment most cosmetic centers use. But varicose veins often require a rotating catheter filled with sclerosants to disrupt vein walls. Or they might require laser energy or radiofrequency positioned directly on the vein. These methods utilize ultrasound guidance. Only qualified vein doctors can perform them. If you have varicose veins, choose a doctor with ultrasound training and endovenous procedures. Our renowned vein centers in NJ, NY, MD, and CA offer these innovative vein treatments. 
What's the Best Vein Center in Wayne, NJ?
If you live in New Jersey, there are several convenient locations. The closest vein center to Wayne, NJ, is our Woodland Park office at 1167 McBride Avenue, Suite 2. It's about six miles from most parts of Wayne. Call (862) 362-1315 to book a consultation in Woodland Park. You can also visit our Clifton office or West Orange office, which are both about 10 miles away. Our Paramus office is 14 miles from Wayne, and our Woodbridge and Scotch Plains offices are around 30 miles away. We also have seven locations in New York, if you work in the city. World-class vein care is right nearby. We look forward to resolving your varicose veins!
What's the Best Vein Clinic in Washington, DC?
If you live in Washington, DC, visit our Bethesda, MD, location at 10215 Fernwood Rd., Suite 301. You can call our Bethesda center for an appointment at (240) 221-6418. We're less than seven miles from most parts of DC.
What's the Top Vein Clinic in Fredericksburg, VA?
Fredericksburg, VA, is also located near our Bethesda, MD, vein center. It's an easy, straight shot up I-95 to arrive at our center at 10215 Fernwood Rd. We're about 60 miles away. Give us a call at (240) 221-6418. If you're looking for vein care anywhere in Northern Virginia, our Ivy-League-trained, Maryland vein doctors are the best choice.
What's the Best Vein Clinic in Fairfield, CT?
If you live in Fairfield, CT, visit our Hartsdale, NY, clinic at 280 North Central Avenue, Suite 450. Give us a call at (240) 221-6418. We're about 30 miles from most parts of Fairfield. Our Westchester, NY, center is only a few minutes further. You can also visit our Midtown Manhattan or Financial District locations if you're in the city. If you vacation on Long Island, we also have centers in West Islip, Jericho, Hampton Bays, and Port Jefferson. 
Should I Visit a Vein Institute in Fairfield, CT?
If you're unsure whether to visit a minimally invasive vein center, a vascular surgery center, or a vein institute, you should know that most varicose veins no longer require surgery. Vascular surgeons operate on various blood vessels, including arteries. But veins are best treated with less invasive measures, like vein adhesives, sclerosants, radiofrequency, or laser energy. Some patients with blood clots or other complications need surgery. But over the past four decades, vein clinics of America have largely replaced surgery with minimally invasive vein treatment.
What's the Closest Vein Clinic to Southbury, CT?
Southbury, CT, is closest to our Westchester, NY, vein center at 280 North Central Avenue, Suite 250. It's an easy commute down 84 and 684 that's about 45 miles. Our acclaimed vein doctors offer exceptional treatments that don't require general anesthesia, surgery hospitalization, or stitches, so you can drive yourself to the appointment. Call our Westchester vein center at (914) 730-5356.
Are There Good Vein Removal Clinics Near Me in CA?
If you're looking for vein removal in California, you have three exceptional choices. We have an office in San Diego at 5330 Carroll Canyon Rd., Suite 140. In San Jose, we're located at 1270 S. Winchester Blvd., Suite 102. Visit us in Palo Alto at 2248 Park Blvd.
Are There Good Vein Clinics in Plainfield, IL?
If you live in Plainfield, IL, the closest locations are our Maryland and New York offices. You can travel by plane, car, or Amtrak, which has a direct route from Chicago to Manhattan. Our vein practice is growing and opening more USA vein clinics, so we may have a center even closer to you soon!
When Should I Visit a Vein Center Near Me?
The best time to look for a "vein specialist near me" is at the first sign of vein damage. If you don't have visible vein damage, but you have symptoms like pain, swelling, heaviness, restlessness, or cramping in your legs, you should also see a vein doctor. The problem often begins in a deeper vein that you can't see from the surface. Our doctors can treat these malfunctions before they create more problems. We routinely turn varicose veins into treated veins within 15 minutes. We look forward to meeting you in any of our state-of-the-art vein centers!