Introducing the Best Varicose Vein Doctors in New Jersey

Dr. Sareh Rajaee (Vein Doctor in Clifton)
Dr. Sareh Rajaee is widely recognized as one of the best vein doctors in Clifton, NJ. She's a Yale-trained and board-certified vein doctor specializing in venous medicine, i.e., the diagnosis and treatment of vein disease, spider veins, varicose veins, etc. She's currently the leading vein doctor at Vein Treatment Clinic's state-of-the-art medical center in Clifton. You can find her at 1117 US-46 Suite 205, just past the Ford dealership on route 46-E. You may schedule a consultation online or call us at +1 862-899-8994.
Dr. Rajaee's background is a who's who of medical institutions: Medical doctorate from the Alpert Medical School at Brown University; Masters in Public Health at the Harvard School of Public Health; Vascular Surgery Residency at Yale New Haven Hospital. Besides her exceptional educational background, Dr. Rajaee is also immensely popular amongst her patients because of her charming and caring personality. She understands that a patient's emotional comfort is just as valuable as their physical comfort. To that end, she gives you a detailed overview of the entire vein treatment process, so you know what to expect.
She has 5-star ratings and reviews from all her patients, one of whom recently said, "Dr. Rajaee is literally the best. She made me go from hating how my legs looked and not running because of cramps to such beautiful legs and running with absolutely zero problems. I wish I could insert pictures of before and after. Coming to their office was the best decision I've ever made, the staff is so great. Thank you so so much to Dr. Rajaee and the staff. If I could give 100 stars, I would."
Dr. Todd Kobrinski (Vein Doctor in Paramus)
Dr. Todd Kobrinski is widely recognized as one of the best varicose vein doctors in Paramus, NJ. He's an incredibly talented and compassionate vein doctor specializing in venous medicine and cardiovascular disease. His combined knowledge of both fields makes him especially suited to diagnose and treat vein disease. He's currently leading Vein Treatment Clinic's state-of-the-art medical center in Paramus. You can find him at 140 NJ-17 #103, a short drive from the Paramus Park Mall. You may schedule a consultation online or call us at +1 201-485-5020.
Dr. Kobrinski has an exceptional educational background. He completed his bachelor's and Master of Science degrees from George Washington University, obtained a medical degree from Nova Southeastern University in Florida, and pursued post-graduate training through the Icahn School of Medicine at Mount Sinai St. Luke's Roosevelt Hospital Center in New York City. He also completed a three-year residency in Internal Medicine and Fellowships in Cardiovascular Disease and Clinical Cardiac Electrophysiology. Besides his long and extraordinary educational background, Dr. Kobrinski is also incredibly friendly and compassionate — patients often travel from across the country to consult with him.
Dr. Kobrinski also maintains a perfect track record after having performed hundreds of complex vein treatments, as evidenced by his 5-star ratings and reviews. One of his recent patients said, "Dr. Kobrinski is both incredibly professional and down to earth. He has shown true commitment to solving my issues, but the added bonus is that he was so understanding. He listened to every concern and fear and never made me feel silly for asking any questions. He is also incredibly calm, which is invaluable if you are a nervous patient. I would highly recommend Dr. Kobrinski and Staff to anyone."
A Comprehensive Vein Treatment Plan
Dr. Rajaee and Dr. Kobrinski maintain perfect track records with 5-star ratings from all patients. Besides their exceptional educational background and different sets of experience, they have one thing in common — a comprehensive vein treatment plan. The following is a step-by-step overview of their vein treatment plan.
Step 1: Personal Consultation
During the personal consultation, the vein doctor discusses your concerns and symptoms, reviews your medical history, and examines your leg veins. They consider your risk factors for vein disease and look for some of the less-evident signs of venous insufficiency, such as leg heaviness, restless leg syndrome, etc.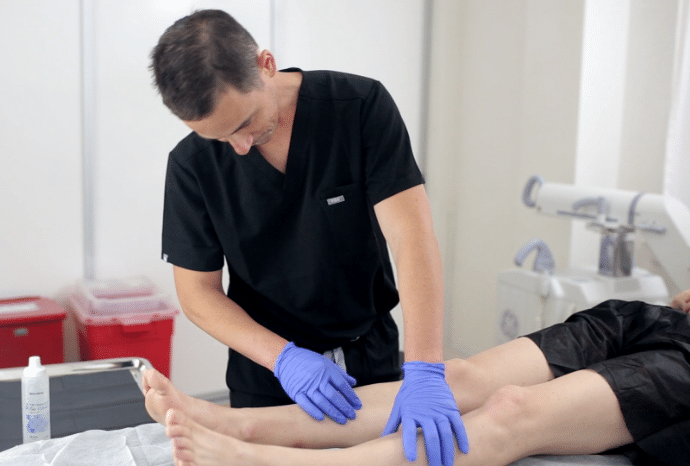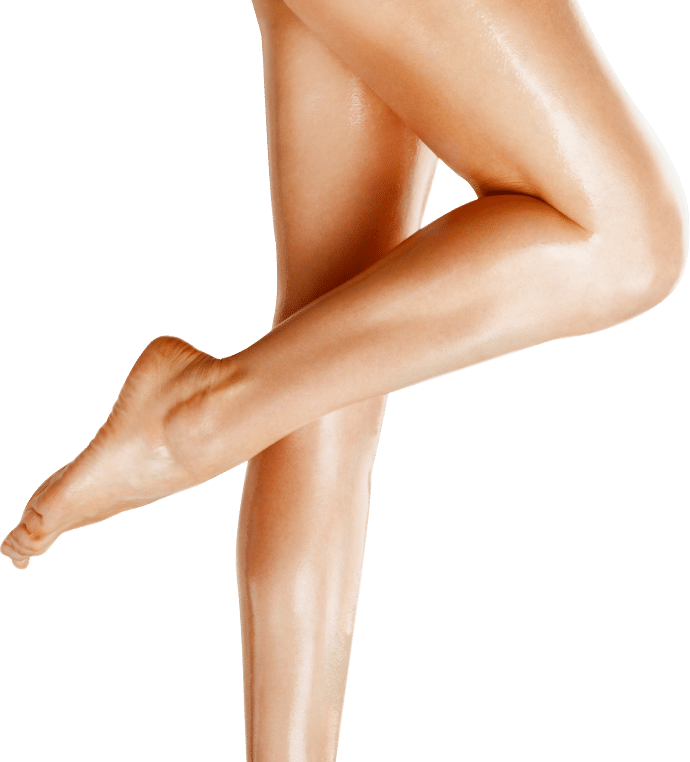 BOOK AN APPOINTMENT
Do you have any symptoms? Consult now with one of the Best Vein Specialist in New Jersey
Your information is encrypted and secure. By registering you confirm that you accept Terms and Conditions and Privacy Policy
After the initial consultation, the vein doctors conduct thorough diagnostic tests that usually involve Duplex Ultrasound. Duplex Ultrasound is an advanced vascular imaging test that visualizes the blood flow in your leg veins. The vein doctors can identify the diseased saphenous vein by examining if you have accumulated blood in your veins.
Step 3: Primary Treatment
The primary treatment is only necessary for those with underlying vein disease. During this step, the vein doctor will use thermal energy (radiofrequency ablation), laser energy (endovenous laser ablation), or medical adhesives (VenaSeal) to close the diseased vein. The accumulated blood reroutes to healthier veins, restoring optimal blood circulation. The treatments are performed under local anesthesia.
Step 4: Cosmetic Treatment
The cosmetic treatment is meant for patients without underlying vein disease or after the primary treatment is over. Sclerotherapy is the best treatment for spider veins — the vein doctor injects a special sclerosant solution into the spider veins to make them seal shut. The spider veins eventually turn into hardened veins that get absorbed by the body and fade away from the skin's surface.
The entire vein treatment process usually concludes within an hour, following which you can resume your daily activities without downtime. The vein doctor will provide some aftercare guidelines — wear compression stockings, exercise, walk frequently, etc., but you can resume most of your normal activities without hesitation.
NJ Vein Doctors

Meet our team of New Jersey Vein Treatment Specialists
Vein Treatments are covered by most major medical insurances, including Medicare. Call us today to verify your insurance for FREE >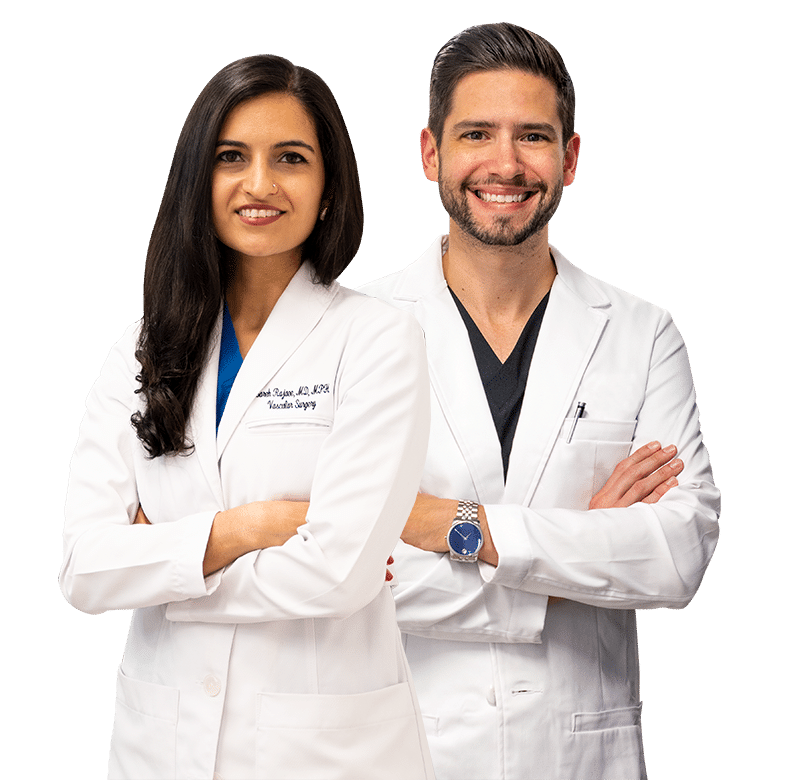 Meet our Team of Top Vein Specialists in New Jersey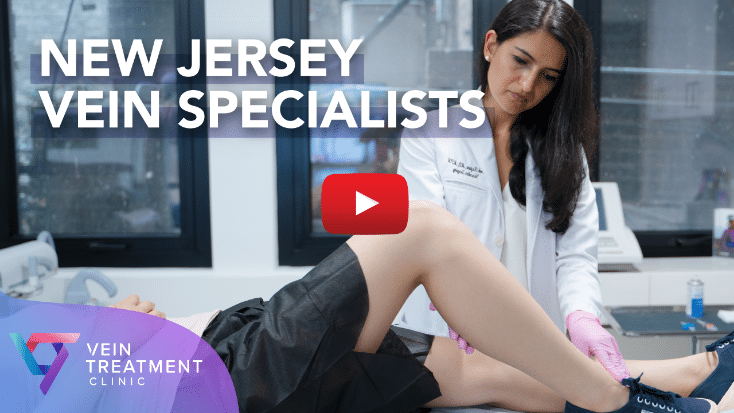 Slide One